DAY ONE: It all started at the airport...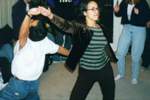 DAY TWO: Rain can't spoil this
---
"Two dancing worlds merged this past weekend after having exchanged glances before to dance and to form something far greater than the sum of its parts; San Francisco and Chicago "danced" their first dance to the music of a 72 hour-long tune called "friendship". The dance was one of the most beautiful and most satisfying dance two cities have ever danced together. Throughout the dance the connection between these two dancing worlds was awe-inspiring, they experienced "one-ness" and it was felt in each fiber of their two bodies and though they both knew it was going to be a long tune in the end both felt that it had past all too quickly. Now after our first dance, physically demanding as it was, we feel energized and longing for the next dance knowing how amazing and incredible the first one was."


--Young-Jin
---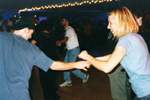 DAY THREE: C'mon...just one more swing-out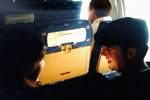 REFLECTIONS: See you all in April!